Search-Edit Screen - Browsing All Trip Records
The Search-Edit screen is accessed from the View menu.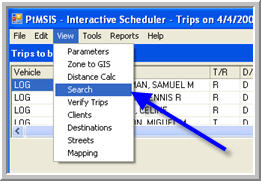 This screen provides a means for browsing the entire schedule day. Records can be instantly sorted using the 3 sort buttons at the top, or sorted by click on the field headers. Pickup Time, drop-off time, and scheduled vehicle can be edited directly on this screen.